It is not easy to say good-bye to a treasured friend–to convey the depth of your feelings or capture the true essence of the person in words spoken to others. But that's just what Billy Crystal did at the Emmy Awards in a touching tribute to Robin Williams, whose death continues to be felt by millions around the world.
READ MORE
It isn't everyday that you read such a glowing review as the one USA Today movie critic, Claudia Puig, gives to director Richard Linklater's Boyhood. She describes it this way: "One of the most extraordinary films in decades, this family drama is also one of the most ambitious in scope, having taken more than a decade to shoot." Puig goes on to call Boyhood "an epic masterpiece."
READ MORE
Legendary comedian and actress, Carol Burnett, loves the art of writing letters, so she was happy to guest star in the season finale of Signed, Sealed, Delivered on the Hallmark Channel. In the show, which airs Sunday at 8 ET/PT, Burnett plays the grandmother of a postal detective who's dedicated to finding people who never received undeliverable letters.
READ MORE
It's been quite a year for Jimmy Fallon. Becoming the host of The Tonight Show is certainly something to be rightly proud of. But in a cover story for People magazine, he shares the achievement that may mean the most to him: "Being a father is the most exciting, amazing thing that ever happened to me. And everything is going well on the show. My life has never been this cool."
READ MORE
Billy Crystal was only 15 years old when his dad died. All he had was "700 Sundays" with him, which became the title of his one-man Broadway show back in 2004. It was the comedian's way of paying tribute to his father and mother. The show had the magic mix of humor paired with Crystal's ability to touch your heart. He walked away with a Tony Award for his performance.
READ MORE
Check out the Nancy comic strip by Guy Gilchrist, which was inspired by The Good for You Network! Who do you want to thank today?
READ MORE
From 8-year-old Myles Eckert finding a $20 bill and giving it to a soldier tucked in a handwritten thank-you note to a middle-school football team saving the final touchdown for a special needs player on the team, "CBS Sunday Morning" never disappoints when it comes to positive, uplifting stories. Journalist Steve Hartman regularly delivers memorable feel good stories that touch the heart.
READ MORE
Jimmy Fallon is replacing Jay Leno on The Tonight Show, but not before expressing his thanks and gratitude to the longtime host. While Fallon plans to bring his thank-you notes from Late Night to the show, he shared a few with Leno in person on-air.
READ MORE
Jake Marcionette loves writing so much that he was able to publish his own book, and he's only 13 years old! In Just Jake, Marcionette takes on a humorous tone to explain what it's like to be a student in middle school in Ponte Vedra, Florida, sharing some of the challenges he's faced and how he avoided becoming a victim of bullying.
READ MORE
The Sesame Project has given the Muppets a healthy makeover. Bert and Ernie are more active and eating healthy foods, and the Cookie Monster is cutting back on his sweet tooth. But how does the Sesame Project impact kids' health?
READ MORE
Writer Charles Fleming had more than his fair share of health ailments, from two hip replacements to a broken leg, two spinal surgeries, and more. Even though he was told he needed it, Fleming declined a third spinal surgery and opted to try to mend himself by exercising.
READ MORE
For years, "Today" show viewers began their morning with Jane Pauley. The former NBC host and award-winning reporter is now sharing life lessons she has learned in her new book, "Your Life Calling: Reimagining the Rest of Your Life."
READ MORE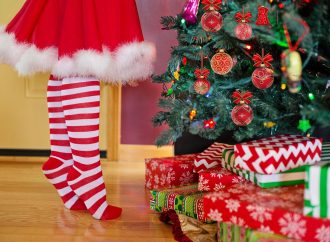 Many of us find the holidays to be particularly stressful, but the good news is that you can change your attitude to enjoy the present more. In the new book, "The Mayo Clinic Guide to Stress-Free Living", author Amit Sood offers a plan to help you reduce stress.
READ MORE
Grace Ann Rodgers, a 3-year-old from Liberty, Kentucky, has a genetic disorder called Conradi Hunermann syndrome that has required her to undergo many eye and spinal surgeries and has taken away her ability to walk, but boy, can she sing!
READ MORE
Each November, Refe Tuma and his wife have a special tradition for their daughters called Dinovember. They stage toy dinosaurs in funny positions and scenarios around the house to convince their kids that the toys come to life each night.
READ MORE